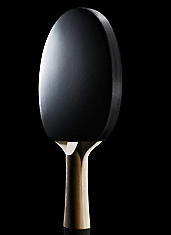 With the French Open behind us, and Wimbledon weeks away, it's time to get serious about your forehand.
Which means you'll need to live and breathe all things tennis starting now.
Table tennis can't hurt either...
So let us recommend the
Table Tennis Robot TW2700-S9
, a trusty, unrelenting hitting partner, available exclusively at AMDTrading.
Essentially it's a mechanical version of a world-class ping-pong champion, but always at your beck and call. You'll just set it up on the other side of your ping-pong table, program it to your liking and you're good to go whenever the mood strikes.
Not only that, but the TW2700-S9 is also equipped with double machine heads that'll hit balls to you as fast as 100 balls a minute to random points on the table—presumably to take your speed, accuracy and reflexes to superhuman levels. Or, you can also program it to steadily hit to your forehand until it's sufficiently perfected.
All you have to do is keep the ball-catching net up and the ping-pong balls will constantly recycle back into the bucket, so you don't waste precious time chasing balls down in your garage, neighborhood bar, office or wherever you do your pong-ing.
Robots: the benchmark of a successful office.