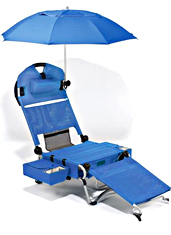 It happens all the time.
You set out for an epic day at the beach—chair, umbrella, a gallon of coconut oil, premixed mojito pitcher, water balloon catapult—when you think to yourself, there's got to be an easier way to get all this to the sand.
Without having to hire a Sherpa...
Presenting
The Only Complete Beach Lounger
, possibly the world's first all-in-one beach lounger, available now for your beaching needs.
Consider this an outdoor beach command unit. Contained in one nifty portable package: four-foot umbrella, chaise lounger, detachable table and cooler with enough room for 12 cans of soda or four wine bottles (or two magnums of champagne). The material: a thin, breathable mesh. The pillow/headrest: adjustable. The color: blue. And the whole thing folds up into the equivalent of a carry-on bag with wheels.
And there's no need to pigeonhole this bad boy just for beach usage. It'll come in handy at your next outdoor concert or even this week as you're camping out downtown in front of the AA arena to watch the game on the giant outdoor screen.
Might want to bring extra champagne.