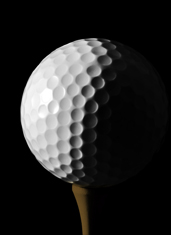 You and Spielberg have been trying to schedule your golf game for months now, and it's getting a little ridiculous. He's back in town this week for the
Super 8
premiere, but you'll be up at Pixar (
Cars 3D
rewrites).
You might need to start playing each other from two different cities. And here's how.
Introducing
Splashie
, a golfers' website that hosts weekly tournaments for players who don't even have to be playing the same course, online now.
This site is set up a little bit like Facebook, only for golf. So if all you want is to discuss the finer points of putting, or you're looking to fill out a foursome for your weekly Sunday game in Griffith Park, you'll want to start here.
But let's say you really want to go toe-to-toe with your boss, even though he's visiting relatives in Monterey. Just sign up in advance for their weekly tournament and hit your favorite course with a couple compatriots.
When you finish your round, your score will be recalculated based on the challenges of your specific course, as it will be for all other participants. So you can fairly face off with golfers even if you're playing in Brentwood and they're at Pebble Beach.
Alternate: fly to Pebble Beach.