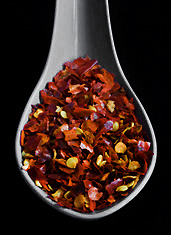 Today, we'd like to talk about your mouth.
Actually, that sounded a little weird. Let's try that again.
Today, we'd like to talk about fire. And about how you'll be taking a bite of it...
Which brings us to
Ghost Pepper Chili Flakes
, a small tin can that's home to flakes from the hottest peppers on earth, available now online.
At first glance, you wouldn't think much of this unassuming container—though maybe the ghost on the cover should raise some questions. But inside, it's packing 10 grams of crushed and dried chili flakes from the bhut jolokia pepper—a pepper that could burst into flames at any moment.
So, your annual summer chili cook-off: a true competition of will and strength. But this year, you'll need a secret weapon—one that would challenge the combined heat tolerance of Chuck Norris and Emeril. You'll be mixing your infamous concoction when you casually slide this can out and sprinkle some on top of your chili. Warning: wash your hands after handling (or toss on your latex gloves before).
As you fearlessly consume chili, you'll have over a million Scoville units of heat hitting your mouth (a ripe habanero pepper is only 350,000). Within seconds, your eyes will water. Your body will sweat. Each bite will feel like a flame torch on your tongue.
Good thing you keep milk on standby.