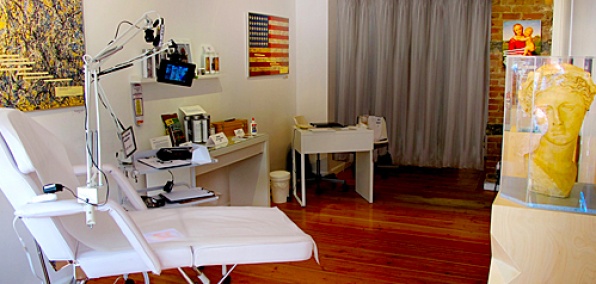 Every now and again, something comes across our desks that just seems... suspiciously auspicious. Because of the tremendous material upside to all our lives if these claims pan out, we at times put ourselves in harm's way to investigate. Albeit skeptically. We call it: Skeptical Investigation. (Copyright pending.)


THE CLAIM
A beautiful new health clinic in SoHo, the
Art Healing Ministry
, purports to cure any ailment (stress, bronchitis, tequila-related maladies) through exposure to fine art. Medicinal treatments range from van Gogh–emblazoned shoe insoles to Impressionist-art-infused safe-sex orgies. We assume the latter's reserved for terminal cases.
THE INVESTIGATION
In order to properly prepare for our appointment, we went on a highly scientific/self-destructive Memorial Day weekend bender.
By the time we arrived to sit in chief practitioner and artist (his work has hung in the Met and the MoMA) Alexander Melamid's jerry-rigged dentist's chair, we were sorely in need of a tier-one medical doctor. Or at least 20cc of something you can't pronounce.
We described our ailments and he prescribed the "treatment program." This included trips to the Guggenheim, a USB stick loaded with specific images of Renaissance masterworks and a few links of art-injected spicy jalapeño chicken sausage (seriously).
Although there was little in the way of instant remedies, we did have a series of Botticelli nudes projected onto our forehead, which at least temporarily provided a welcome distraction from the throbbing in our frontal lobes.
THE FINDINGS

In the days since the visit, we're genuinely pleased to report that not only has the hangover almost completely subsided, but perhaps more importantly, we also have a newfound appreciation for Paul Cézanne. Now to see what Picasso can do for rickets.