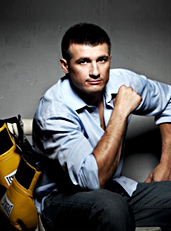 A very wise man—Mark Wahlberg—once opined that he'd never listen to a trainer who wasn't more jacked than him.
So with summer at hand and a holiday weekend's worth of decadence in your belly, it's time to find yourself a trainer who has won boxing world championships, got Tobey Maguire ready for a spandex bodysuit... and is prepared to reside in your pocket.
Introducing
Danny Musico's Celebrity Fitness
, an app that's like having a celeb trainer in your gym shorts, available now for iPhone and iPad.
Basically, for less than the cost of a banana split—which Musico would humbly suggest you avoid anyway—this app offers nutrition pointers, exercises broken down by muscle group and videos to help you on your form. All from a guy who's been paid to tell the same things to Tobey Maguire and the
Entourage
guys. (E has always been your fitness icon.)
It just launched, so there'll be more content in the weeks ahead. But for now you can get started with some of his suggested workouts to shake you out of your routine—he's big on circuit training—or you can save different exercises to create your own customized regimen.
Go ahead, start with martini lunges.