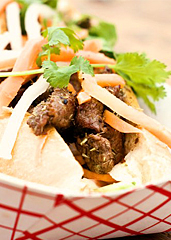 Big game tonight.
Dirk vs. LeBron. Kidd vs. Wade. Big D vs. South Beach.
You can't focus on work—that's just ridiculous.
You're thinking about one thing... spring rolls served curbside.
Presenting
Nammi
, the first and only Vietnamese food truck in the city, setting sail later this week for your mobile bánh mì pleasure.
Yes, the Dallas gourmet food truck count now stands at five. And it won't be hard to spot the latest entrant. This truck is big. Yellow. And has one massive cartoon character on it sporting an Asian sun hat (you've been warned).
So this week, between pounding thundersticks and getting your Rick Carlisle buzz cut, you'll want to track this down on
Twitter
or
Facebook
—they'll be posting their weekly schedule online and working a region that includes everywhere from One Arts Plaza to Deep Ellum.
Once you've located it, you'll want to gingerly approach this untamed beast of Vietnamese fusion (or simply walk up to the ordering window). Ask for the
Lemongrass Beef Tacos
or the beef spring rolls with peanut sauce. Or, if your Finals jitters need a bit more stabilizing, order a bánh mì sandwich with BBQ pork and some sweet potato fries.
Just wait 30 minutes before you check into the game.