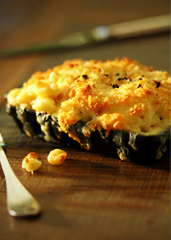 Just...
We have no words.
Except maybe congratulations. You've just emerged from three days of competitive grilling, poolside swan-divery and houseboat Olympics (relatively) intact.
But let's be honest—you're spent.
What you could use now is a massage, approximately seven blue Gatorades and, of course, some comfort food.
For that last part: say hello to Casseroles, a new takeout spot with a focus on one thing and one thing only... pancakes. Just kidding, it's casseroles—and it's now open in Morningside.
This is one of those places that's every bit as necessary as it is random. So on days like today, when your body demands chicken-y, biscuit-y sustenance and cooking is out of the question, you'll head here—a bare-bones, cinderblock-walled space tucked discreetly away behind and below Rosebud.
Inside, you'll find an ever-
rotating mélange of homemade casseroles (you can take them home frozen, or call ahead for the heated/fully prepared treatment) like
Chicken & Biscuits
,
Macaroni & Five Cheese
,
Shrimp & Grits
and the childhood throwback otherwise known as
Chicken Divan
—all of which are available in small portions or family-style sizes.
Then again, you may also want to consider stockpiling your freezer with a few breakfast and brunch staples like the Sunday Sausage Strata and Hash Brown Casserole.
It's never too early in the week to start thinking about brunch.