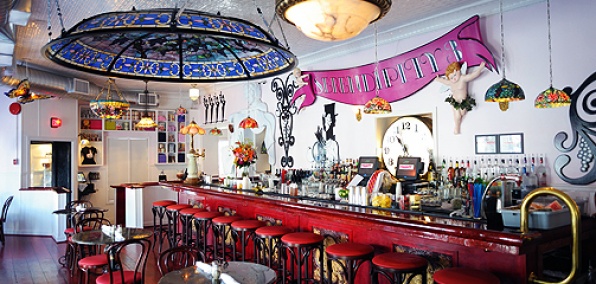 You ran the gamut this weekend. A bit of twilight polo on Saturday, a stint in a charity dunk tank on Sunday.
It was enough to work up an appetite. And not one that can be sated by a mere weekend of hot dogs and giant ice cream sundaes. No, those look like they'll be summerlong pursuits.
Introducing
Serendipity 3
, now open to give you access to such treats even when a backyard cookout isn't at your immediate disposal.
The first DC outpost of an upscale New York (yes, again) malt shop that dates to 1954, this is the kind of retro date spot where Marty McFly would have taken his... well, his mom.
You'll enter to an eight-foot fiberglass statue of a smirking Honest Abe, an array of Tiffany lamps and a bar stained red, which is where you'll marshal drinks such as boozy root beer floats and martinis garnished with gummy bears. And it's there you'll want to stay, while you tuck into foot-long dogs and lobster rolls.
Unless, of course, your group swells (your date tends to attract a crowd), in which case ask for the alligator-embossed silver booth in the back dining room—the place to spread out amid shareable desserts like red velvet cake buried under an ice cream sundae or their famous
Frrrozen Hot Chocolate
.
It's summer's answer to the simmering snow cone.