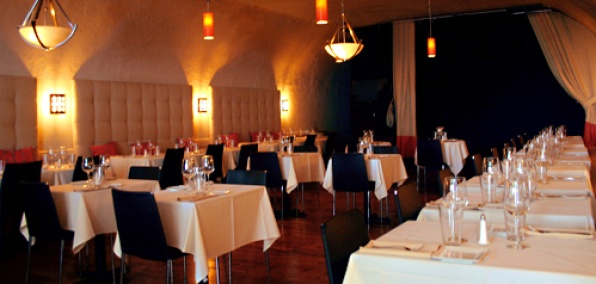 You can't really go underground in this city.
We mean that literally—there are no basements anywhere.
However... we've got word of a sexy bunker in Little Havana doling out Spanish rock and housemade chorizo inside what looks like a Tuscan grotto.
It just happens to be at street level.
Introducing
Catharsis
, a loungey cave of wine, tango and Latin comfort food, now open on Calle Ocho.
Head to this spot next time you need to impress that leggy Univision producer (i.e., this weekend) with the kind of place that conjures rustic bistros in Argentina's wine country.
It's small, but well-appointed: replete with vaulted arches, hardwood floors and cushy, beige banquettes perfect for cozying up to hear a two-time Latin Grammy winner belt out ballads on the small stage at the back of the room (that would be on Fridays).
So yes, the South American vibe is strong here. The owners are Argentine, the chef is Colombian and most of the musicians who perform here wouldn't be out of place on Latin American Idol.
Before things get caliente, get to know your date over a bottle of Chilean rioja and a Picadita wood slab layered with salami, prosciutto and olives. Then move on to a sublime three-hour braised short rib in red wine.
That extra hour makes all the difference.