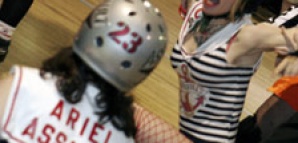 Ever since GLOW (Gorgeous Ladies of Wrestling) faded from public consciousness in the late '80s, we have been tragically deprived of a raunchy, girl-on-girl "sport" to call our own.

Not anymore.

The Gotham Girls Roller Derby League is kicking ass and taking names.

Born in 1935 as America's first "spectacle sport," roller derby took off when the violence became the best part of the action. Evaporating into pop culture oblivion in the '70s, roller derby resurfaced in Texas in 2001, and a mini-revolution has since ensued.

The Gotham Girls League has taken the sport to the next level: Gone are the co-ed teams in favor of red hot, girl-on-girl action. It's a rough, sexed-up, punk-inspired romp, and the girls (with names like Ginger Snap, Anne Phetamean, Sybil Disobedience and Carmen Monoxide) come to play in fishnets, tattoos and old-school quad-wheel skates.

With events selling out regularly, the upcoming October 21st Championship Bout between the Manhattan Mayhem and the Queens of Pain is bound to be one hot ticket.

Women. Wheels. Blood. Bones. Sinful thoughts of Heather Graham as Rollergirl in Boogie Nights. We call that something for everyone.