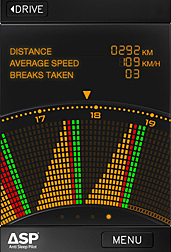 Let's talk summer road trips.
The convertibles. The open road. Your flawless rendition of "Come On Eileen."
They're a thing of beauty. Well, until you start getting sleepy.
And then you don't know what to do. Until now...
Meet
Anti Sleep Pilot
, an iPhone app that'll make sure you never drive sleepy again, available now.
Think of this as having a friend riding shotgun with one sole job: making sure you're focused on the road. (And he won't change your playlist.)
So soon—maybe even this Friday—you'll be enjoying a steak at Javier's when your buddy texts you. "Horseshoe Bay. Midnight yacht cruise. In?" Well, of course you are. Problem: it's a three-hour drive, and you're beat. That's when you'll download this app.
You'll start by answering a couple questions from how many hours you sleep on average to your current fatigue level. Then, before you hit the road, you'll switch it to drive mode. As you cruise toward champagne parties under the stars, this app will use 26 parameters to determine how sleepy you are.
And to ensure that you're driving at an optimal alert level (think Jeff Gordon meets a ninja), the app will test your alert levels with simple response tests. And if you show signs of fatigue, you'll be asked to pull over for 10 minutes.
Save your energy for the yacht.