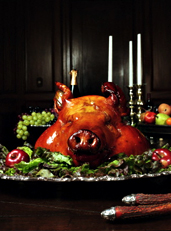 It's going to be a magical Memorial Day weekend.
So much so, in fact, that it just made us use the word "magical."
But even though your final round of charcoal butler interviews are well underway, and you finally found a place willing to rent you 57 Slip 'N Slides... you're forgetting something.
Like finding someone to roast a whole hog in your backyard.
Enter the
Mobile Pig Roast
, a new service from the guys behind
Goin' Coastal
involving you, 20 to 1,000 fellow swine enthusiasts and a few Berkshire pigs, now booking for Memorial Day weekend and beyond.
Before we go any further: this isn't some catering outfit showing up at your door with a precooked, heat-lamp-ready hog. Above all else, this is an experience.
So let's say that, despite your best-laid plans, you suddenly feel your talents would be better served as poolside liaison instead of grill man. You'll make a quick call to Seth Hendricks (aka: your new hog guy) to iron out the details.
And soon after, while you're busy setting up those Slip 'N Slides, he'll be up in Brasstown sequestering a few choice Berkshire hogs. Come game day, he'll show up with a special "pig box" and slow-roast them on sight before serving them alongside accoutrements like
Jalapeño Corn Bread Pudding
, hush puppies and collards.
Oh, and you can also request a full low-country boil.
But still... backyard pig roast.