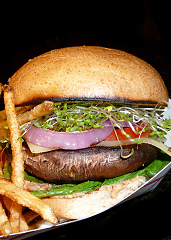 Last night's game—epic.
Dirk's performance—legendary.
So today, we feel duty-bound to bring you something equally impressive.
You know, like
Pepperoni Egg Rolls
from a truck.
Introducing
Jack's ChowHound
, a new comfort food joint on wheels, slated to open next week.
Picture your favorite greasy food haunt. Now take away all the seats, put it on four wheels and then wrap it in wood panels. Add some sunroofs for good measure, and you'll have this.
Walking up, you'll catch a whiff of that new food truck smell (it strongly resembles cheeseburgers). Your
burger options
range from staples (portobello) to the
Bipolar Burger
(the patty combines hamburger and pork). But if you need something to hold you over until Game 5, order up the
Pulled Pork Grilled Cheese
or the
Spicy Steak Sammies
with fajitas.
Starting next week, you'll find this thing at Inwood Tavern. But their exact hours are still up in the air, so in the meantime you'll want to follow them on
Facebook
and
Twitter
.
You can probably still ignore Friendster.