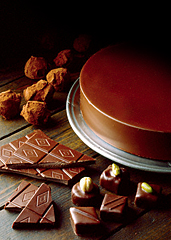 Dating Rule #313: Always wear pants.


Dating Rule #314: If you come across an opportunity to seamlessly feed each other chocolate for hours on end... take it.
Welcome to the Atlanta Chocolate Salon, a one-night-only, pop-up chocolate market brought to you by the ladies behind Sugar-Coated Radical and the Atlanta Underground Market, accepting your RSVP now for the inaugural soiree on June 11.
Imagine a giant, invite-only farmers' market—now imagine those farmers growing Triple Chocolate Mac & Cheese instead of tomatoes. It's pretty much like that. So when that fateful Saturday evening rolls around, you'll want to scoop up your cacao-loving accomplice and hit the Sweet Auburn Curb Market.
After braving the inevitable line at check-in, you'll find yourself in a blocked-off, indoor/outdoor section of the market (hint: it'll be the one with all the chocolate).
From there, it gets complicated. But only in the sense that every square inch of real estate will be occupied by professional and amateur chocolatiers, all vying for your attention by way of chocolate-covered wasabi peas, Chocolate Chili con Carne,  handmade truffles and chocolate-making demonstrations. That, and an equally dizzying selection of gratis chocolate liquor, beer and wine tastings.
Apparently chocolate sake is still in R&D.