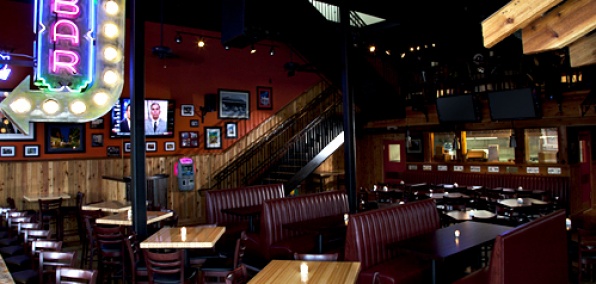 Summer's almost here—you can feel it. Also: you looked at your calendar.

Still, spring has a few tricks up its proverbial sleeve. Like a good old-fashioned rebirth.

With a rooftop...

Rising from the ashes: Dodie's Cajun Restaurant, the first eatery to open on Greenville Avenue since the Greenville fire, opening next week.

You know this spot as the old Hurricane Grill. Only now, instead of hosting a Cajun joint, it's home to... well, another Cajun joint. But one with a bar on the roof.

So you'll recognize the preserved 1931 brick facade, but you might not recognize what's inside—an elevated mezzanine area filled with white sofas and a front bar that opens up to the patio.

You'll start at the aforementioned bar (note the massive neon "oyster bar" sign above). And then you'll settle into one of the red booths with shed roofs overhead. Here, you and your playoff crew can watch Mavs-Thunder on the nine flat-screens around you, as you dine on Fish Tacos with Jambalaya or a round of Fried Crawfish Tails.

But if you're just here for drinks, then your best move is the rooftop, a red brick patio overlooking Greenville Avenue. That's where you'll saddle up for their signature Hurricane...

Mardi Gras float not included.