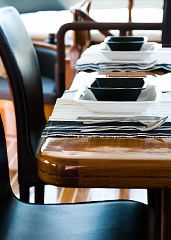 Mega-lounges. Tiny neighborhood gems.
You've experienced them all.
But sometimes you want to kick off your shoes, mingle with some TV anchors and feast on lobster mac and cheese... on an $8 million yacht.
That's not yours...
So meet
Shikany Interactive Dinner Series
, a roving dining club curated by a local chef, accepting applications now for off-the-grid dinners in waterfront mansions, downtown galleries and the occasional Italian pleasure boat.
First, meet your chef, Michael Shikany. His track record includes stints at Ortanique and La Cofradia. His goal: to cook you an unforgettable meal in a beautiful setting. Your goal: to let him.
Next, fill out the short
application
, briefly describing yourself and checking off interests like design, automobiles and film (we're guessing Bond movies are a plus). Then, if you've passed muster (and you will), you'll get an email telling you the location of your dinner, the cost—it can vary from $150 to $500—and very little else.
The meals are limited to 40 people and range from five-course wine-paired affairs to glorified cocktail parties with parades of small plates like
Jerk-Rubbed Foie Gras
over cinnamon french toast. And depending on the night, you could be dining anywhere from a 50th-floor penthouse to the veranda of a dormant waterfront mansion to a gutted Wynwood warehouse.
Or all three.