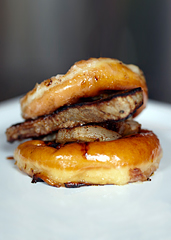 You're nothing if not efficient during your nights out. You're on a first-name basis with the bouncer. You always know the shortest path between you and tequila.
And you'll take your dinner and dessert all at once, thank you.
So let us introduce you to
The Jelly Belly
, a mind-bending blend of pork belly and glazed donut debuting Saturday night at U Street Music Hall.
This is the kind of food that the Egyptians would have buried themselves with, the better to bribe their way into the afterlife. And as you might guess, this spirited combo is the work of Erik Bruner-Yang, who created U Street's now legendary
Pho Dog
, as well as H Street's palace of ramen,
Toki Underground
.
You'll descend the stairs (or just let the bass bounce you down) to this
underground lair
of house beats. Your chest thumping and your appetite whetted, you'll beckon your bartender and declare your intentions. What he'll produce: a sliced, grilled glazed donut, containing a thick, marinated... giant slab of bacon.
But since pork belly is nothing if not a gateway drug to more protein, you may want to linger and sample the rest of the new menu, including a curried chicken brat and the
Sloppy Cho
, an Asian-tinged pork sloppy joe.
At long last, the Asian Manwich has arrived.