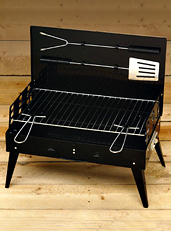 You work hard. You grill hard.


And now, finally, there's a briefcase that understands you.
Introducing The Briefcase Barbecue, a renewable energy source for the new millennium (kidding—it's a grill in a briefcase), available now.
Think of this as your barbecue preparedness kit.
Here's how it'll go down: you'll stride into your place of business, full of grill-related purpose. You'll set this on the conference table and fold it out—suddenly, you'll have a foot and a half of wire grill at your disposal, complete with a two-and-a-half-inch charcoal well and (in case you're not carrying your own) a built-in spatula and tongs pinned to the top.
Before long, you're cooking up steaks and burgers for everyone from the VP of Sales to that girl in HR who requested a veggie dog. (Note: this also works on incriminating documents.)
And if, on your annual road trip/kielbasa tour through rural Germany, you happen upon a secluded field just begging for a little beef smoke... you'll know exactly what to do.
Good thing you keep a pork loin in your glove compartment at all times.