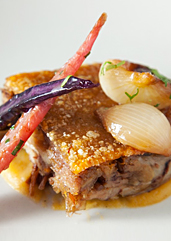 Food is art.
Music is art.
Food isn't music.
Unless, of course, it is...
Allow us to present
Covers: A Culinary Tribute Dinner
, a six-course, BYOB, underground concert of a meal that pairs covers of famous chefs' most famous meals with thematically inspired cover songs, taking reservations now for next Thursday.
While it'd be nice to have
Ferran Adrià fly over from Spain—or Charlie Trotter pop in from Chicago—to prepare his signature dishes for you, you'll have the next best thing as the guys behind
GraffEats Guerrilla Dining (a roaming culinary crew helmed by a vet of New York's Eleven Madison Park) do their own renditions of those dishes.
When you arrive (they'll divulge the precise locale the day of), you'll see that it's a collection of stage sets—a ship's hull, skate ramps, a treehouse, a detective's office and a submarine—assembled together in one space. And if you want your own table, you can splurge for the VIP experience and sit in the submarine or the detective's office. (Role-playing is encouraged.)
Throughout the night, each course will be paired with a cover song. For example, the version of Thomas Keller's
Grilled Octopus Tentacles
will be paired with Syd Barrett's "Octopus" as covered by Giant Squid.
We're looking forward to the ravioli pairing...