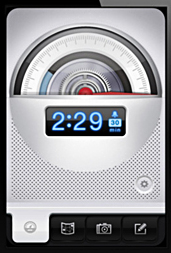 If
Parking Wars
has taught you anything, it's that meter maids are a callous, unforgiving sort.
You can't argue with them, and you can't tease them about the tightness of their pants.
So it's probably better that you just remember to feed your meter. With some help from your phone.
Presenting
Parkbud
, a new app that's like a personal assistant for all things parking, available now on iTunes.
It's an all-too-familiar scenario: you're out shopping for a new hang glider with a few Brazilian friends you met in New Zealand, and you've just parked the Aston Martin. You pump a few quarters in the meter. Then, you forget all about it. Zang. Ticket.
From now on, you'll avoid all this nonsense. The process: just pull up this app, then set the time you parked and when the meter will expire. Before it does, you'll receive an alert reminding you it's time to appease the parking gods. At this point, you'll send an intern to go take care of it.
But because you sometimes forget where you parked altogether, this app will also use GPS to locate your car, thus avoiding another way those tickets have racked up over the past few months.
Seriously: pay your parking tickets.