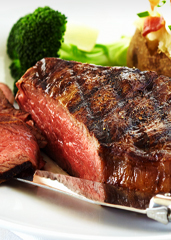 In LA, careers can be launched over a handshake at a barbecue.
So your steaks had better be good.
And if they're Wolfgang-good, even better...
Introducing
35 Degrees
, 
a SoCal purveyor with access to the top-notch meats
long favored by the likes of Wolfgang Puck and Thomas Keller, now delivering to the public.
Debuting just in time to help you take your Memorial Day bash from memorable to "Do you want to direct
Fast 7
?," these are the same top-notch cuts of meat you could be served at CUT or Bouchon. Except, you know, in your backyard.
First step: head to the website and order up as many rib eyes, Kurobuta pork rib chops and racks of Colorado lamb as you, your grill and your checking account can handle. (Center cuts don't come cheap.)
They'll overnight it all to your front door—and the meat's never frozen, so it stays remarkably tender. (Thirty-five degrees, by the way, is the optimal temperature for aging meat. Now you know.)
Once your Sunday barbecue's taken care of, you can proceed to stockpiling your freezer with a
2 Week Protein Fix
(it's a dozen pieces of prime or Angus meat), or the
Thank You
pack, complete with filet mignons, New York strips, flat irons and cowboy cuts.
Note: don't send this to Olivia Wilde.