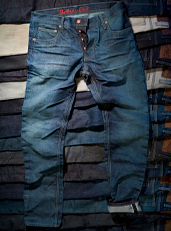 You like to be prepared.
If there's a cork, you've got a corkscrew. If there's a sneeze, you've got a handkerchief. If there's a puddle, you've got some variety of puddle covering.
And if, for whatever reason, you find yourself driving a few hundred cattle across South Dakota... well, now you've got just the pair of jeans.
Introducing The West Is Dead, a line of ultra-rugged clothing built to see you through your next High Plains adventure, available now.
It's what the Marlboro Man would have worn for an epic night out in Amarillo. (We assume he had those all the time.) That means defiantly unskinny jeans, duck canvas chinos and old-school henleys that could have been lifted from John Wayne's dressing room.
You'll be equipped for anything from a tumbleweed-dodging trek to your local saloon to road-tripping with the top down. It's all handmade in the US, including 19th-century-heritage-style barn coats—the same denim jacket you've seen on everyone from westward-bound pioneers to George Harrison.
No, not during his Yellow Submarine period.