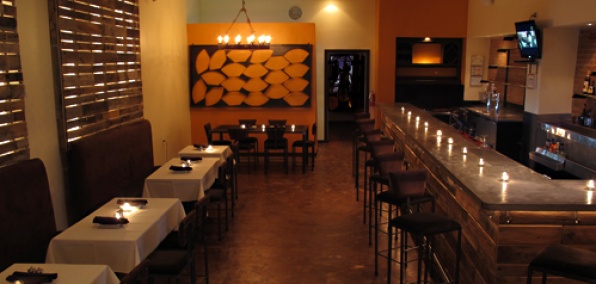 You've gone to great lengths for the finer things.

To Lockhart for barbecue. To Austin for the next Old 97's. To Italy for an all-linen Speedo. (Hey, no judgments.)

And now, to Oak Cliff for a Veracruz-style date spot...

Introducing Mesa, a hidden gem with plates born in a Mexican coastal town, soft-opening tonight.

We know. Oak Cliff. Not exactly a hotbed of sexy date spots. But we'd like you to reconsider.

It'll start when you see a steel sign reading "Mesa" crammed on the Jefferson strip. You're here. As you step inside, you'll feel as if you stumbled upon a rustic dinner spot that ran away from Austin. One wall's covered with wood from an old fence, the other with exposed brick. Candles flicker from the seven white tables.

You'll start at the long concrete bar with a Vampiro (tequila, beer and hot peppers). Then you'll slide into one of the brown suede booths and summon up plates of gulf shrimp and Mole Mama Cata—it's an old family recipe with 20 ingredients, including duck leg. (That old favorite.) And to add a little Texas touch, they'll bring over some Fried Bananas with Oranges.

Texas hospitality is best served fried.