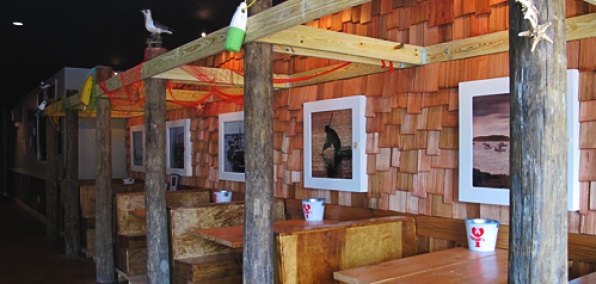 Ah, 2004. The Sawx were winning, and you were being whisked up to New England for impromptu advice sessions with John Kerry.
You miss it. Well, at least the food.
It's time to get nostalgic, as we present
Freddy's Lobster and Clams
, now soft-open in Bethesda to sate your appetite for all things salty and New England-y.
This is the kind of no-frills clam shack—nets, buoys, wood shingles on the walls, seafaring photos—the Bush clan might hit up in Maine after one of 41's celebratory skydives.
If you're with a large group (the Bushes, say), you'll want to claim one of the big picnic tables on the front patio. But if it's just the two of you, you'll head for a pair of the red vinyl stools at the wraparound bar, making sure to get a look at the reclaimed beach signs ("Wear your life jacket") as well as the dozen microbrew tap handles (Tröegs HopBack, Flying Dog Raging Bitch IPA).
Then it's time to get down to business, and business, thankfully, resides in a huge lobster tank at the far end of the dining room. Ask for
a whole one steamed, or diced up in a roll
, the better to share with your date along with a box of fried clams and a plate of chilled empress crab claws.
You can remove the life jacket now.