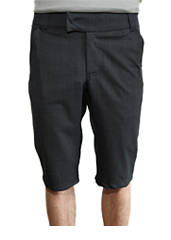 The power. The glory. The showmanship.
Yes, we speak, once again, of your legs. And they're ready for their big spring debut.
Here to give them the spotlight they rightfully deserve:
Nonetheless Dispatch Rider Shorts
, available now to spiff up your morning bike commute... or afternoon rooftop deck all-staff meeting.
The first thing you need to know about these is that they're made in Chicago for Chicagoans. That means they're tough. The fabric is similar to a fine dress trouser, but made with a special blend of wool and high-tech, water-repelling material created from recycled plastic bottles. They'll stand up to sudden spring showers, pothole splashes and your annual Memorial Day dip in Buckingham Fountain.
Yes, we can see you wearing these on your way to work. There are all manner of secret zippered pockets and moisture-wicking linings to help keep your wallet and phone from getting damp.
But ultimately, the main attraction here is that they're just pretty damn sharp, as bike shorts go. They'll take you places no padded-bottom Lycra dares... namely, for Saturday martinis at RL. But don't get too excited. You still wouldn't want to wear these to your next sales meeting—though, honestly, you just may be tempted.
When it comes to closing a deal, you're not afraid to break out the big guns.