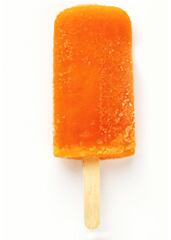 Walk outside today. Just for a minute. You'll be immediately struck by two thoughts.
1. It's not July.
2. It may as well be.
Yes, we've entered the steamy depths of summer. You need something to soften the blow.
Allow us to suggest a round of mojitos. On sticks.
Boozy Popsicles from Feverish Ice Cream
, available now for pickup or delivery.
You're no doubt familiar with the mobile frozen-treat mavericks Feverish. Same for their homemade pops in nonalcoholic flavors like mango and coconut. Now, after extensive research (perhaps involving a few poolside focus groups), they've figured out how to get your favorite rum, tequila and bourbon to freeze into the shape of childhood snacks of yore.
They've honed a minty, rum-spiked
Mojito
, a salt-flecked
Margarita
and a
Bourbon and Peach
pop. While you can't get the boozy pops from the truck's regular rounds, you can have them whip up a custom batch for pickup from their prep kitchen, or have some delivered to your next scorching golf outing or an impromptu happy hour on the beach.
And if you want to take your next barbecue or office team-building day to the next level (and you do), you'll want to consider renting the truck for private use. They'll come stocked with at least a hundred boozy pops for your party.
No blenders needed.