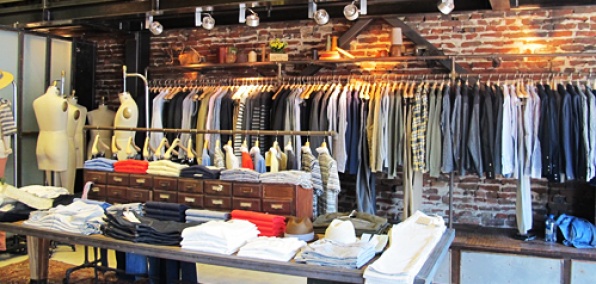 Memorial Day. It's in your sights. And you know what that means: three months of music festivals, backyard margarita tastings, even a little gripping and grinning on a senator's veranda.

What you need: a spot that can outfit all of it.

What we're going to tell you about: Rag & Bone, the new outpost of the London-meets-Brooklyn outfitters, opening tomorrow in Georgetown as their first US shop outside of New York.

Born of two Brits who made it big in the States (like Billy Idol, but substitute finely combed cotton for studded leather gloves), this brand specializes in the kind of stripped-down wear that Brad Pitt would don for a Sunday afternoon spent matching wits with the paparazzi.

And sure, you can already get some of it locally. But as you stroll around the distressed concrete floors and take in the brick-and-steel design, you'll be pleased to know that here on the antiqued brass racks is the only place in DC to find their whole line. Think unlined cotton blazers, lightweight henleys and coming soon: slim-fit jeans with a "grass-stain" pigment (you always prefer to look like you just made a sliding catch in foul territory).

Also only here: an upper floor of only shoes and accessories, like bags, straw fedoras and Wayfarer sunglasses.

You'll have to grass-stain the fedora on your own.