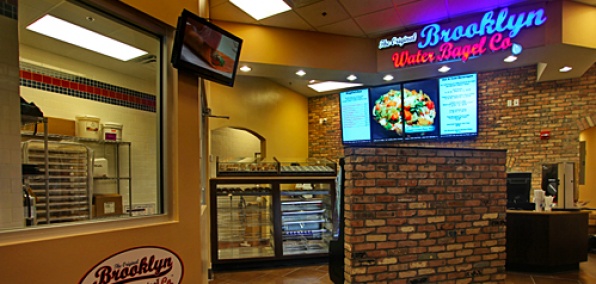 Brooklyn.
The multisyllabic beauty of "fuggetaboutit." The true home of the Dodgers. The name of a certain Ms. Decker.
The bagels aren't bad either.
Which brings us to the boiled-dough bounty of
The Original Brooklyn Water Bagel Co
., your new source for authentic New York–style bagels and 2am corned beef, now open in South Beach.
You may have heard something about these guys before—Larry King is an investor and they
just expanded
to the West Coast. The secret to their flavorful carbs: Brooklynized water, which they replicate here using a 14-step process. This is their fifth Florida outpost, and the first to be open 24 hours (only on Fridays through Sundays, when you need that predawn lox on sesame most).
But you can also get your schmear fix starting at 6am each day, along with their trademark iced coffee made with frozen-coffee ice cubes and diner-style egg creams (like a chocolate milk spritzer). You'll find the usual suspects here: garlic, everything, salt, onion... the omega-3. And in case you're looking for something heftier than scallion cream cheese, there's a
Cuban Reuben
, a scooped-out bagel topped with sliced pork, ham, pickles and melted Swiss.
It's like Havana on pumpernickel.