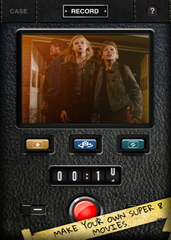 You've always fancied yourself a bit of a Tarantino in waiting. Hence the samurai sword on your hip. And the movie camera on your other hip.
Well, it's time to get out from under the shadow of the master. With your phone, no less.
Enter
Super 8
, a new app for the iPhone and iPad inspired by the vintage camera of the same name that lets you shoot scratchy, grainy movies in handheld 1960s style, available now.
This is the digital equivalent of that old-school camera with the pistol grip that your uncle always broke out at the family reunion (you know, Uncle Abe Zapruder).
So the next time you find yourself in a moment that needs documenting (a president whips out his actual birth certificate; a pair of Marilyn Monroe and Jane Russell look-alikes show up at your pool), you'll take out your phone and select your lens, from color and B&W to sepia or even X-ray (useful for capturing Ms. Russell's bone structure).
Having mastered such gonzo journalism, you can set to work filming your screenplay, making sure to shoot in infrared and add jarring shake effects for that pivotal scene when the muscle car chases the zombies up the Capitol lawn (note: we cannot guarantee that the Capitol Police will see the humor in this).
Then it's time to edit, add a title (
It Came from the Potomac
) and screen your opus, which you can do via a virtual pull-down projector screen.
Jujubes sold separately.