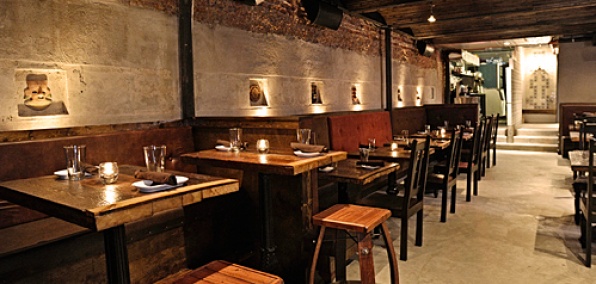 Today, in the spirit of Cinco de Mayo, we're here not just to intrigue you, but to overwhelm you.
To take you to a place where you won't know where to begin (and certainly not where to end).
In other words, we're here to discuss tequila. A lot of it. Which tends to happen when it comes to tequila...
Welcome to
The Tequileria at El Centro D.F
., opening tonight to put a veritable library of the world's top tequilas and mezcals (okay, mostly just Mexico's) at your disposal.
Now, just so you know, this place also consists of a ground-floor taqueria and two separate rooftop bars. But being that tequila is best consumed in the shadows, you'll want to head downstairs to this moody realm, a Mexican speakeasy marked by concrete floors, Mayan masks and dark wood.
You'll settle in at one of the high-top tables (your stools are made from barrels) and mull over which of the plates (like adobo-marinated pork belly tacos and
Beef Barbacoa
Enchiladas
) you'd like to dive into.
Meanwhile, you'll have your go at the list of 200+ tequilas and mezcals, some available nowhere else in the city. If your spirit requires a bit more dressing up, you can opt for a margarita, made with nothing more than fresh lime and agave syrup.
Or you can grab a concoction of tequila, basil, mint and fresh berries known as the
Tequila Smash
.
Last seen when you played badminton in Puerto Vallarta.