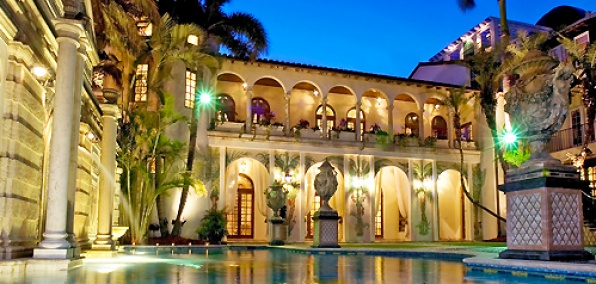 Perfume. Flowers. Garden gnomes.


Those last-minute Mother's Day gifts will undoubtedly work out fine. But this year, it might be time to bring your A game to the proceedings.
Luckily, we've found a few tables at Versace's old place...
Say hello to the mother of all Mother's Day venues: a one-time-only
Brunch at the Villa by Barton G.
, aka the Versace mansion, taking reservations now for this Sunday.
Chances are you've already been to the revamped Villa for a night of foie gras and caviar bingeing. And now it's time to let Mom bask in Gianni's palace—the hand-painted mosaic tile, the 24K gold-lined pool, the cobblestone walkways. And since the place is usually off-limits during the daytime (except for hotel guests and a posh tea service on weekend afternoons), this is the rare chance to see it in all its sun-kissed splendor.
Be sure to reserve a spot on the patio overlooking the pool, where they've decked out the tables with Versace's personalized china and porcelain teacups. And while Mom's getting reacquainted with mimosas, you can relax as black-tie waiters present a parade of dishes like
Truffled Eggs Benedict
and
Grand Marnier Soufflé
.
It's your kind of parade.