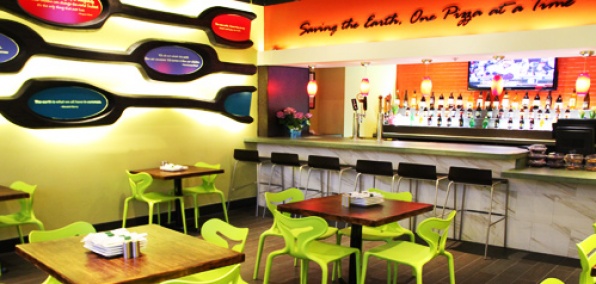 Pizza + beer = a flawless combo. Filling. Comforting. Tasty.
In fact, there's very little we'd change about that equation.
Except make it a little more Natalie Portman–friendly.
Which brings us to
Pizza Fusion
, your new source for organic microbrews and righteous, world-saving pies, now open in South Beach.
If DiCaprio took over the reins at your local pizza place, it would look something like this: countertops made from recycled glass, earth-loving quotes framed on the walls, floors sourced from old basketball courts (for
Basketball Diaries
–era Leo). And the menu's chock-full of things that impress Prius drivers—like organic crusts, soy cheese, hormone-free Italian sausage and organic portobello mushrooms.
This place will come in handy next time you're entertaining that gaggle of vegans in your paddleboarding league or in the mood for an all-natural
Classic Pepperoni
and a frosty microbrew. Of the six on tap, two are local labels, including Fort Lauderdale's Native Lager and the malty Cigar City Maduro Brown Ale out of Tampa.
It brings out the tobacco notes in the multigrain crust.