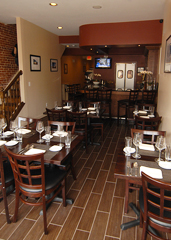 There are those things that Georgetown continues to produce at an uncanny rate: Foreign policy experts. Face-lifts. Pants with whales on them.
And date spots.
Not to be outdone, along comes
Bookhill Bistro
, now open on Wisconsin to help you woo your next grad student with cheese boards and foie gras.
This is the kind of cozy spot—a former gallery with 200-year-old floors, tiny dining rooms and a hidden back patio—that looks like you put exactly the right amount of thought into things.
When you walk in, you'll immediately gravitate toward the tiny bar that pours beers like Old Dominion Oak Barrel Stout and Goose Island IPA and cocktails like the
Dirty Politician
(vodka, caper juice, blue cheese olives). But your best bet is to head upstairs, where you'll find... another tiny bar, along with a fireplace and tables that look out the big picture windows onto the street.
That's where you'll get to work on broiled Nova Scotia lobster tails, rack of lamb with garlic confit and shareable desserts like the
Meyer Lemon and Whiskey Napoleon
and
Tiramisu with Nutella Sauce
.
In coming days, they'll unveil a fenced-in slate patio in back, which shares space with the chef's herb garden.
A great venue for whale pants, if ever there was one.