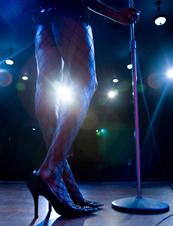 It happens all the time (okay, maybe twice). But still, it's frustrating.
You're at the karaoke bar. Whiskey may or may not be involved. And after some urging, you take the stage and request K-Ci & JoJo.
And they don't have it.
Because Chumbawamba is never an acceptable fallback option:
Karaoke Warehouse
, an online temple of karaoke tunes where you can create your own customized playlist CD, online now.
Think of this as the home for your much-anticipated compilation of your greatest karaoke hits. (Well, technically, just the background music to them.)
So picture the evening. You and some grain farmers from Moscow are in town. You already know how this night is going to go down: Beer. Enchiladas. Tequila. More tequila. A friendly wager concerning a sombrero and a mechanical bull. And finally, karaoke.
First, good luck with the bull. Second, let's talk karaoke. As the night goes on, you'll start craving your go-to song ("Take Me Home Tonight"). And somehow, unbelievably, they don't have it. No problem. You'll pull out this CD, slide it to the DJ and whisper, "Hit play."
It's still up to you to crowd surf.