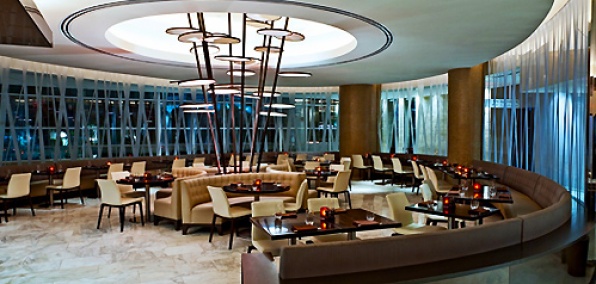 We'll make this quick since we know you're busy today. (That Kate Middleton look-alike contest isn't going to judge itself.)

It concerns sushi, sake and the return of the Fontainebleau's thumping temple of maki: Blade, a clubby shrine to raw fish, is open again at the Miami Beach mega-hotel.

You'll recall that this spot closed last year to make way for the subterranean Arkadia lounge. Now you'll find it down the hall from the lobby, occupying half the dining room of Vida and carving out its own Tokyo-on-the-beach vibe with a clamorous sushi bar and cream-colored banquettes.

Keep this place in mind next time you need to fuel up before a night of VIP table-hopping at LIV. Guide your date to a table facing the wraparound floor-to-ceiling windows that peer out to the hotel's five-pool backyard. From there it's on to sashimi flights and unorthodox yet enticing rolls like the Vida (made with hamachi, serrano chili and asparagus). Pair it with the Farmer's Daughter, a junmai sake scented with cinnamon and pumpkin.

It's like autumn in a sake cup.