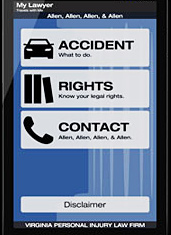 You're a great driver.
You command the road with the grace of Brian Boitano and the grit of Danica Patrick.
Sadly, others aren't as talented, which results in the occasional fender bender.
And it seems to be those moments when your personal injury lawyer is always in Barbados. Time to keep one at your side at all times.
Or rather, in your pocket.
Presenting
My Lawyer
, an app that's ready to act as your chief legal counsel, available now for your Android or iPhone.
You can basically think of this as like having Johnnie Cochran (or at least Jim Sokolove) on call, 24 hours a day.
So say that bachelor party on the Cape this summer unexpectedly lands you and your vintage Vespa in the soup of a traffic dustup.
Your first move: announcing, "I want to talk to my lawyer." Your next move: reaching into your pocket, grabbing your phone and pulling up this app.
You'll log all the relevant details (photos of the accident, other driver's information, police units on the scene) and submit them to My Lawyer's nationwide brain trust of attorneys.
From there, you'll be informed of relevant state laws and your rights, and you'll even receive a free phone consultation to see if a real live lawyer would be the best thing for you.
Yes, they also handle cases in Vegas.