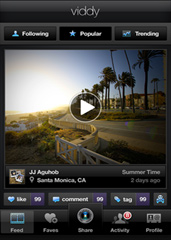 It was a surprising decision, but in the end it turned out to be the right one: the royal family appointed you official wedding videographer.
And while your final edit will undoubtedly be an artistic triumph—your best work since Russell Brand's bachelor party—your behind-the-scenes outtakes deserve special exposure.
And that's where we come in...
Introducing Viddy, an app for filming and broadcasting your life, 15 seconds at a time, available now on iTunes.
The simple math: Instagram plus Twitter plus video equals this. You'll take videos with your phone and then send out 15-second clips to an army of followers, complete with video filters and optional soundtracks.
So after you've carefully filmed Kate Middleton's dramatic entrance (she says you've always brought out her glow), you can choose between leaving it as is, or turning it into, say, a '20s-style black-and-white flick or an oversaturated home movie scored by clubby techno—depending on how the queen is feeling.
After that, your masterpiece will go out to everyone who's following you (just like Twitter) and join Viddy's own stream of videos.
We assume Spielberg's keeping tabs.