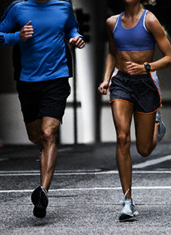 Today we'd like to talk to you about jogging.
No, wait, come back.
We also want to talk to you about making friends. Specifically, friends with benefits. Allow us to explain...
Presenting
JoggingBuddy
, a website that lets you locate the running partner(s) of your dreams, online now.
First of all, we should make this clear: this is not a dating site. It's a site that allows you to find running partners. If the running partners you target happen to look great in a pair of short shorts, a tank top and New Balances, so be it.
To get started, you'll probably want to stretch out. Then, you'll go to the site, create a profile, upload a picture (the one of you winning the San Diego Triathlon should work) and enter your area or the area where you'll be Prefontaine-ing around (with or without the '70s mustache).
Then, you'll scroll through the profiles of other joggers. Once you've found the right strider—someone, say, with the endurance of Frank Shorter and the body of Blake Lively—you'll connect over the site and meet up for a jog (don't forget to properly cool down with a double scotch).
And because the site is live in 26 countries, you can even find running partners when you're traveling in Sweden or Portugal.
You love breathing heavy with foreigners.