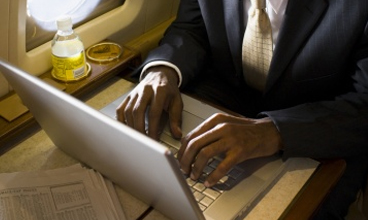 Today, let's address your in-flight entertainment options:
Read the Journal.
Revise the preface to your autobiography.
Challenge your aisle-mate to travel Scrabble.
Watch Mad Men with a gin and tonic (it is noon, after all).
But sometimes you want something more indulgent. Something more "I wonder what's happening five miles below my feet" stimulating.
Meet
MondoWindow
, a new website where you can see the ground 35,000 feet below your airplane in real time, online now.
Think of this as live Google Earth video shot from the bottom of your plane (while traveling at 450 miles per hour).
So here you are again, flying from DFW to LAX for your monthly In-N-Out Burger run. And we'll just say it—you're bored. You've read
The Economist
cover to cover and you already ordered all your Christmas gifts from SkyMall. (Grandma's gonna love her new massage chair/guitar amp.) That's when you'll grab your electronic device of choice, connect to the in-flight wi-fi and enter your plane number on this site.
Then a map will pop on the screen, showing your plane cruising over Scottsdale in real time. (Try not to be overwhelmed with excitement.) Click on the city, and you'll be presented with facts, history and Flickr photos from the Grand Canyon State. Consider it your own personal tour from a complete stranger.
Maybe don't quiz your neighbor on population sizes.