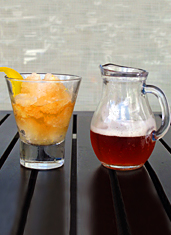 It's like a heat wave out there. Well, for April, anyway.
And while it may be too early to break out your mobile mister, it's never too early to consume clever combinations of booze and ice.
So say hello to
Granita Cocktails
, available now on Casa Nonna's new sidewalk patio to give you a head start on defeating the evils of a DC summer.
You've sat at the marble pizza bar here for
zucchini flower and fried egg pizza
, but now, the 850-degree oven is going to look a little... unwelcoming. Today, your business is out on the sidewalk, with a group of colleagues who have similarly permissive attitudes toward icy mid-day restoratives.
First up: the
Ginny Hendricks
, which starts its life as lime granita, frozen, shaved and scooped into your glass. When that hits your table, it will have a companion: a concoction of gin, muddled lime and cucumber, and lemon juice, which you'll pour over the ice.
And when you finish with that one, you'll do the same with the
Cherry Blossom
(cherry granita, vodka, St-Germain) and the
Vinchenzo Palmer
(limoncello granita, Earl Grey–infused vodka, lemonade).
Don't try this with Gatorade.