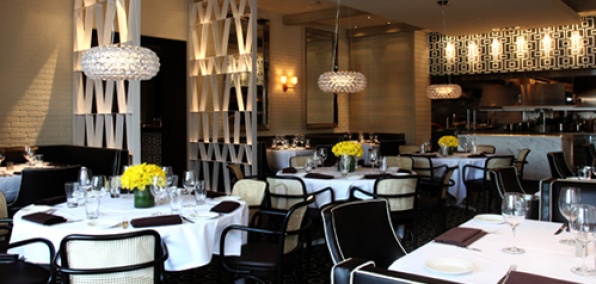 Dinner and a movie: solid.
Dinner on top of a movie theater's marquee: now we're getting somewhere...
Meet
Marquee Grill
, a new cocktail bar and white-tableclothed dinner spot sitting on top of the Highland Park Village Theatre, now open.
If you've ever looked at the top of a movie theater and thought, "I would
love
to eat some bacon-wrapped trout on top of that"—or hell, even if you haven't—then this is your place. You'll pull up to the
75-year-old marquee
, duck the main theater door and enter past the front patio (to avoid the paparazzi, of course). Inside, you'll find a two-level temple of dining blanketed in retro-style black-and-white carpet.
Head upstairs to the handsome bar, all dark wooden walls and brown leather chairs. If you're here for a pre–
Lincoln Lawyer
cocktail—say, a
Trial Margarita
(Texas honey and tequila)—you might like to know there's a private theater entrance in the corner. But if you're here on a date, you'll want to go outside—there's a small, red-tiled balcony perched on the marquee overlooking Highland Park.
Here you'll cut into
Bourbon Maple Glazed Lamb
and sip
Beretta Sours
. Then casually slide into the theater before the opening scene.
It's BYO red carpet.