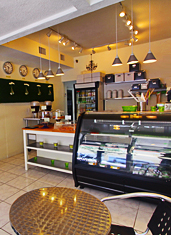 It happens sometimes.
You're downtown. You're crashing hard. So you need a pick-me-up...
Strong coffee ought to help. And just to keep things interesting, let's throw in some ostrich jerky...
Welcome to
Bryan in the Kitchen
, opening today downtown.
In short, this is just your typical organic-style café run by a former male model. (That would be Bryan.) You'll find standard gourmet shop things here: homemade pastries, fancy granola, smoky baba ghanoush and carrot chips. But we'd like to direct your attention to the plastic bags on stainless steel shelves—they're packed with jerky. There's the cumin-scented buffalo, black-pepper-spiked beef and, the knockout punch, teriyaki-flavored ostrich sourced from an ostrich farm in Palm Beach. (It's always best if wild game doesn't have to travel far.)
It's all courtesy of the namesake chef, a nutrition guru with a taste for marinated beef and an itch for baking. Stop here in the morning after a wild night of SoBe indulgence, stake out one of the two stainless steel tables under white deer antlers and summon an espresso and key lime pie with a coconut and macadamia crust. Once you've ushered in the caffeine and custard-laden healing, you can embrace the salty protein-packed punch of the jerked meats.
No one knows jerky like a former model.