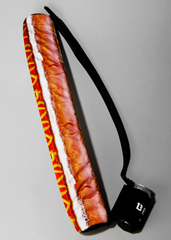 It was a stirring weekend.
The Celtics swept the Knicks. The Bruins closed out Montreal in double overtime. Your VIP Bonnaroo tickets just arrived in the mail (courtesy of that roadie from the String Cheese Incident).
Which of course got you thinking: "Man, I'm going to need a new way to start carrying beer on my back."
Presenting the
Beeracuda
, here to ensure you'll never be without frosty beers while celebrating anything outdoors this season, available now.
To get an idea of what exactly this is, think of those beach mats you can buy along any waterfront shopping strip to sling over your back by strap (you know, like the one you make your driver wear during beach day).
Now, make that about 26 inches long, or the length of about five 12-ounce cans. Then add a sturdier strap for your back and insulate the sleeve to keep your beers chilled. Boom. Done. It's even got a single koozie attached for when five just won't do (or when you're chasing your Heinekens with cherry Shasta).
It's made by Burton, so you can be sure it'll perform dutifully amongst the hordes of revelers found at outdoor music festivals, wild Boston sports championship parades (lookin' at you, C's) or any other time you need a handful of cold beers at your side.
So, Mondays, basically.