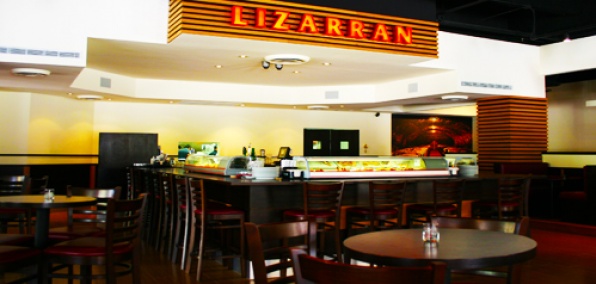 Spain's tapas bars will always have a special place in your heart.
The wine. The suspended ham hocks. The accents...
But on the off chance you're staying closer to home this spring—it's Penelope's turn to visit you—we found just the thing...
Say hola to Lizarran

, a

tapas and sangria haven in Coral Gables presenting you with 100 small plates, open today.
Consider this your home away from Barcelona. It's the first Florida outpost of the famed Spanish tapas empire, and it's a bit sleeker than your typical neighborhood tavern—think flat-screens, high-top tables and a floor-to-ceiling cigar humidor (due in a few weeks).
If you're having lunch with friends, grab a table by the front windows; with a date, a booth in the back. Start with a Spanish Estrella draft beer while you order a few small plates of roasted artichokes, fried squid and eggplant sautéed with honey.
Then it begins. Roving waiters will circle the room with trays of pinchos, baguette slices topped with chorizo or anchovies, goat cheese and dates, and crab-stuffed peppers. Like with a dim sum cart, you'll just point to what you want as the trays go by. Each one comes with a toothpick that you'll place in a cup on the table, which will be used to tally your bill at the end.
Resist the urge to build a toothpick tower.