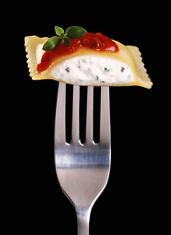 You've taken this whole bespoke thing about as far as it can go. Your suits: made to measure.
Your gloves
: stitched from a tracing of your hand. Your summer reading: written specifically for you.
Regrettably, however, your pasta has remained subject to the whims of others.
No longer. Allow us to present
Custom-Ordered Pasta at Marcel's
, available now to put an end to your days of mere off-the-rack tortellini.
If you've got a hankering for wild boar ravioli, but your Tuscan-made pasta maker is in the shop (along with your wild boar gun), you've now got a solution.
When you make your reservation at this French-Flemish dining room for your next pivotal dinner, you'll want to tell the maître d' what you have in mind, pastawise, for your table (give them at least 24 hours' notice). As long as they can get their hands on your desired filling (and they usually can, being that they're affiliated with the Butcher's Block in Old Town), they'll get to work making your pasta a reality.
Of course, if you're feeling flat-out overwhelmed by the pasta universe that's unfolding before you, they're happy to make suggestions, like
Ravioli with Petit Gris Snails, Sweet Onion Purée and Caramelized Garlic, with Parsley Purée and Black Fermented Garlic Butter
.
Or if you just can't figure out what sauce will go best with caviar tortellini, they can help with that, too.
Hint: it's caviar sauce.