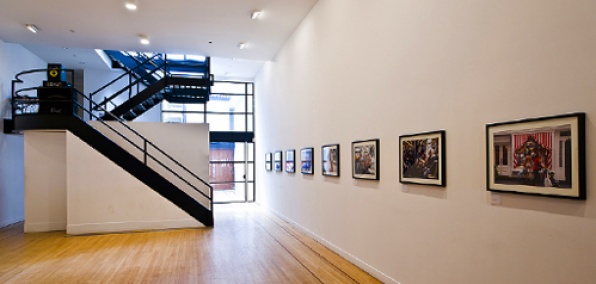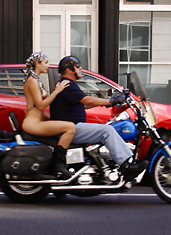 Let's try some free association. 
A French brunette is eating a hot dog in a Gray's Papaya. Completely nude. 
We'll pause for a moment. 
... 
Perhaps
a picture would help
. 
Turn your gaze to
Nue York: Self Portraits of a Bare Urban Citizen
, which is just a roundabout way of saying: self-portraits of an undressed auteur/brunette exposing her soul (amongst other things) around the city, on display through April 28. 
What you're looking at here is creative expression in its most primal and raw form. Also, the stark-naked physique of Parisian photographer Erica Simone. Who, armed with only a tripod, remote-shutter camera and quick-release bathrobe, makes a profound statement on the hypocrisy of materialism, censorship and individuality—while riding the 1 train to the Bronx in her birthday suit. 
You see, this 20-piece, uninhibited exhibition was not only designed to serve as the perfect backdrop for your third date, but also to shine a light on some of society's biggest plights. Like delis that discriminate against the shirtless, shoeless and pantsless. 
And when you eventually bump into Erica, possibly while examining the mise-en-scène of
Meatpacking Construction
, you should absolutely feel free to ask her any questions that might pop into your head. 
She's not exactly shy.