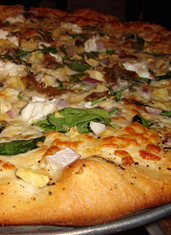 It's time to start thinking about that backyard of yours.
It's just sitting there. A virtual coliseum of untapped potential.
You should throw a party out there...
Oh, and if a bright blue fire truck shows up and starts serving pizza, just go with it.
Introducing the
Blue Moon Pizza Truck
, a 1961 Harvester fire truck retrofitted with a stone pizza oven, now available for your backyard soiree-ing needs.
So first off, this thing has been quietly rolling through movie sets and corporate functions for quite some time now. But you'll be happy to hear that with a couple weeks' notice (and about 50 to 1,000 would-be accomplices), they'd also be happy to fire up the engine/oven in your own backyard, parking lot or nearest block party that happens to be ripe for a takeover.
Let's run with that block party scenario for now: the line for your martini luge is around the corner. Bieber and Usher have been jumping in the bouncy house for hours. And now, the crowd demands sustenance. At which point the Blue Moon team will spring to action, fire up the oven and flip your dough out in the open.
And once your
Bacon Cheeseburger
,
Thai Chicken
and
Greek
pies are ready, they'll ring the bell on the old-school fire truck to let you know.
Which is pretty much the loudest dinner bell ever.