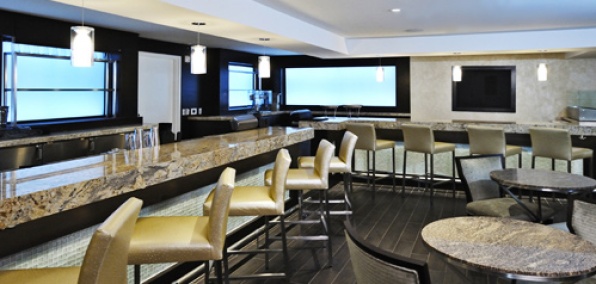 Timing is everything. And sure, we're talking about 11th-hour budget deals and legendary stoppage-time goals. But today we want to focus on something more immediate.
Like when a huge, hidden patio debuts just in time for some alfresco dining weather.
Introducing
Todd Gray's Watershed
, a new outpost of raw bars and outdoor grilling in NoMa by the power-dining chef of Equinox fame, now taking reservations for a Friday opening.
This is the kind of place you'll decamp to after a long week, when you seek the solace that only copious plates of local oysters and vodka dressed up with jalapeños and pear lemonade can provide. And while the inside will be plenty cozy in winter—think high-backed velvet loveseats and a raw bar where a chalkboard displays the day's menu—your business these days will be on the back patio.
There, totally isolated by the GSA building on one side and the high-rise hotel on the other, you and your early-evening date can find refuge under an umbrella, take in some live music and begin an odyssey that includes a bottle of burgundy, some tartare from the raw bar and Rappahannock oyster sandwiches.
If you're lucky, Chef Gray may be manning a grill outside, turning out whatever meaty concoction suits his fancy. But if you want to guarantee some face time, book the eight-person, granite chef's table that looks into the open kitchen and name your feast.
This is also recommended if you're worried about spying GSA employees.