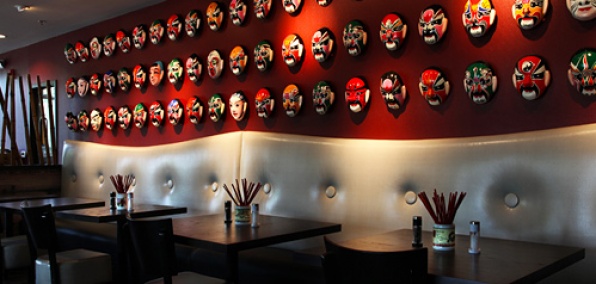 We set the standard for steakhouses.

We invented the cheeseburger, regardless of what non-Texans think.

And let's just say there's a reason it's not called "Mex-Tex."

But Chinese food... okay, we could use a little help.

Enter Howard Wang's, a Peking duck and dumpling temple in Uptown, slated to open next week for your dining-in or delivering pleasure.

Now, let us prepare you. You're about to set foot inside a never-ending Chinese New Year parade with celebratory Asian masks covering the back wall and red silk lanterns hanging from above.

Your first stop: the bamboo bar, where you'll refresh with a lychee martini. Then, on a nice spring day like today, head outside to the patio—there are windows connecting directly to the bar, so consider the refill situation resolved.

But as your party of kung pao enthusiasts arrives, you can tell the hostess you need a spot more hidden. Past the black and red booths is a private room with sliding doors and one long, black table. Here, you'll order Hawaiian mahi-mahi and ginger beef tenderloin for the table.

And because you're always searching for the next great fried rice delivery spot, allow us to repeat: these guys deliver.

Unfortunately, the masks aren't for sale.